School Dinners
We have made some changes to school dinners since returning to school in September, and we are now pleased to offer three choices of meals each day. These will be on a recurring theme each week but will vary slightly over a three-week menu rotation. On some days there will be a sandwich option that can be chosen alongside the sides and desserts on the menu or eaten alongside the salad bar choices.
Pupils will select their meal choice daily in the classroom with their teachers and will be given a coloured wristband at the start of lunchtime to show their lunch choice.
Some pupils may wish to bring their own packed lunch from home. If they do bring their own lunch this will be stored safely in the hall until lunchtime where they will then sit with their classmates in the dining room. We always encourage healthy eating in school and so urge you to pack a balanced healthy lunch for your child.
There will be thorough washing of hands before and after eating and tables and chairs will be cleaned in between sittings.
School meals now cost £2.50 per day (£12.50 per week). This is payable through Parent Mail only as we do not accept cash payments. If you need support with accessing your account please contact the school office who will be happy to help.
From Monday 7th January we will be operating our revised menu for the Spring Season. This is following consultation with pupils in school to discuss their preferences and take on suggestions for improvements. The menu will run on a three-week rotation as follows: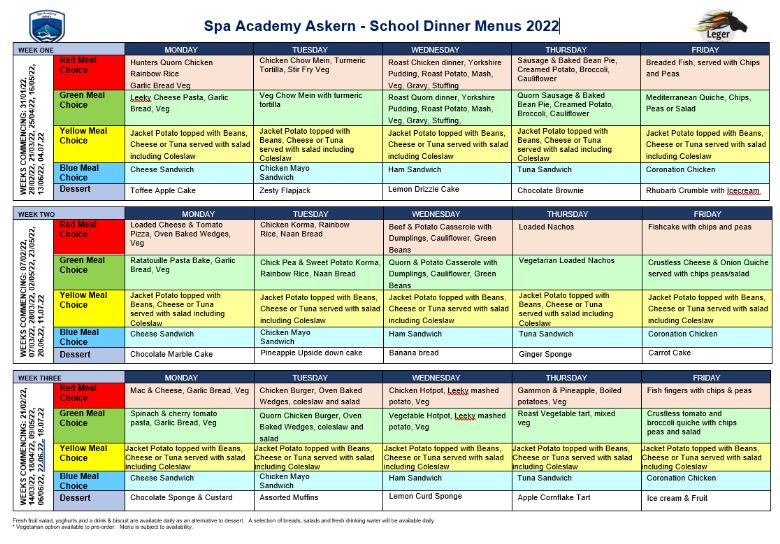 Our menu is available to download below: