SEND
Our Intent for SEND Provision at Spa
| | |
| --- | --- |
| | Create a culture of ambition for all pupils with SEND. |
| | Ensure that all children have access to our Literature-Led Curriculum, through the prioritisation of reading. |
| | Ensure there are clear systems in place to identify the needs of pupils with SEND, as early as posssible. |
| | Regularly assess the learning and development of pupils with SEND (using a range of appropriate tools), adapting intervention, as appropriate. |
| | Developing effective partnerships between home/school. |
| | Working alongside external agencies to hone and develop our provision for pupils with SEND. |
| | Ensure our pupils with SEND are safeguarded and able to safeguard themselves in later life |
What is meant by a 'special educational need' (SEN)?
'A pupil has SEN where their learning difficulty or disability calls for special educational provision, namely provision different from or additional to that normally available to pupils of the same age' - SEND Code of Practice, 2015
SENDCo
The SENDCo (Special Educational Needs Co-ordinator) at Spa is Claire Mannion, who can be contacted at sendco@spaacademyaskern.com.
Graduated Approach
The provision for all pupils is based upon the graduated response. The first step in this is high quality inclusive teaching and whole school systems for assessing, planning, implementing and reviewing progress. Click below to find out more about Spa's approach under each stage.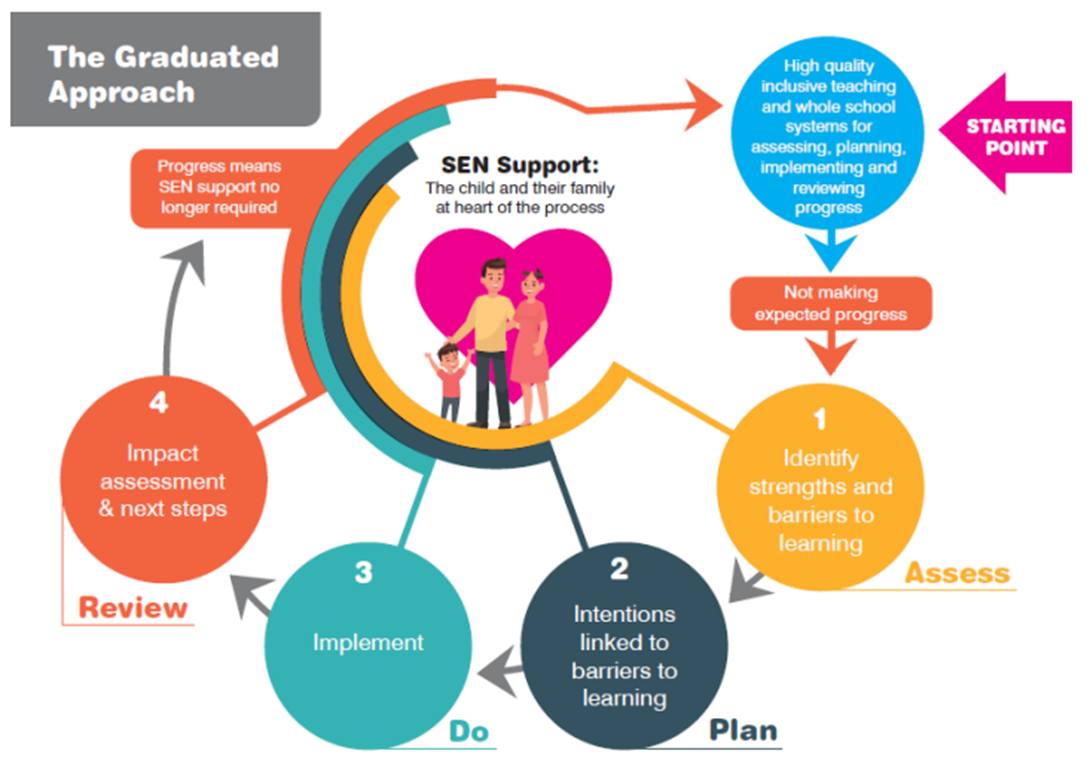 Identification
At Spa, we closely monitor the progress of all pupils and aim to quickly identify pupils that are making less than expected progress.​​​
This can be characterised by progress which:
is significantly slower than that of their peers starting from the same baseline
fails to match or better the child's previous rate of progress
fails to close the attainment gap between the child and their peers
widens the attainment gap
It can include progress in areas other than attainment – for instance where a pupil needs to make additional progress with wider development or social needs in order to make a successful transition to adult life.
The first response to such progress should be high quality teaching targeted at their areas of weakness' - SEND Code of Practice, 2015
At this point of the identification process, the class teacher may work with parents to share the targeted areas of weaknesses. This high quality teaching may be enough to support pupils' progress. During this time, further assessments may take place to identify their response to additional intervention and/or strategies.
Where progress continues to slow, this is where families, teachers and the SENCo work closely together to provide further support.
Assess
At Spa Academy, we assess the progress of pupils, both those with SEND and those making less than expected progress, using a range of tools.
This includes tools such as the Birmingham Toolkit, to support academic progress. At the same time, we also use a range of tools to assess and monitor the progress and impact of interventions/strategies in meeting and supporting pupils' wide range of needs.



Birmingham Toolkit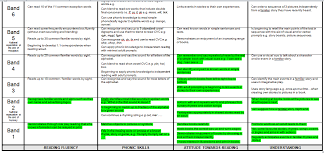 Plan
There are three key stakeholders in planning provision/strategies for pupils with SEND:
Parents/carers: these are gathered regularly at termly meetings/discussions. This includes discussing families' views, wishes, feelings and ambitions for their child.
External agencies/services: where appropriate, advice from external agencies/services (such as CAHMS, ASCETS or the Educational Psychology Service) is sought, to feed into the APDR cycle.
School staff: the class teacher, SEN team and SENCo provide support in the provision/strategies available and developing ambitious outcomes for pupils.
What does my child's SEN plan look like?
Long-term outcomes - these are outcomes that aim to be achieved by the end of the key stage.
Medium-term outcomes - these are outcomes that aim to be achieved by the end of the academic year.
Short-term outcomes - these are outcomes that current provision and strategies are aiming to achieve, normally by the end of the current term.
When forming outcomes, it is important that these are SMART outcomes: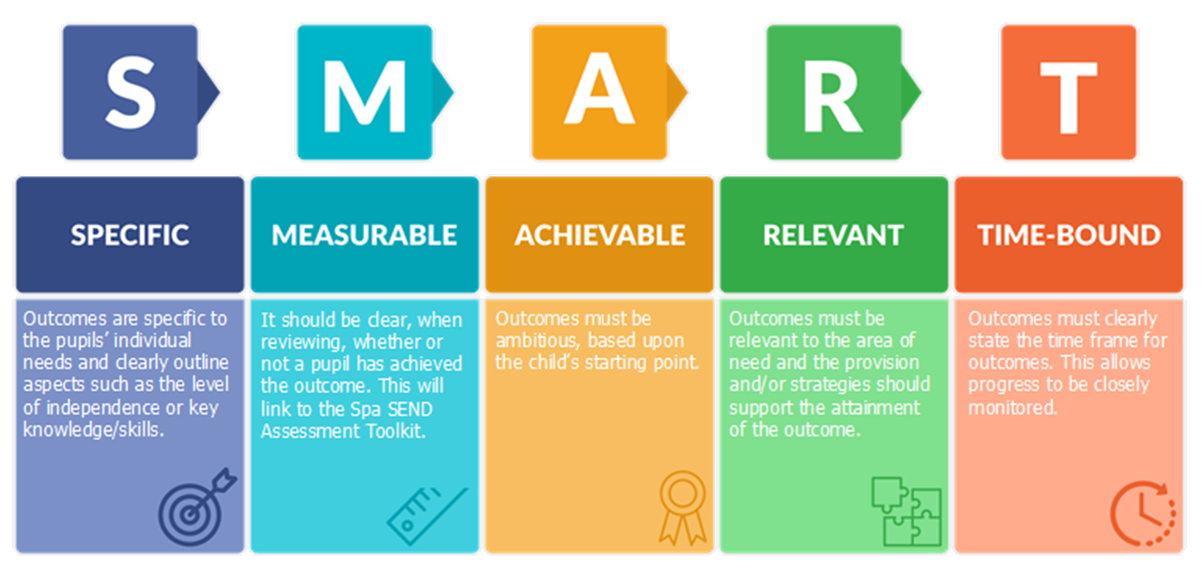 Do
Wave 1 Provision
Wave 2 Provision
Additional intervention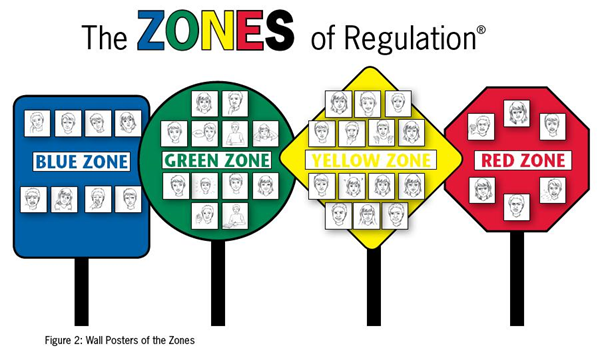 Review
Pupils' SEN plans are reviewed termly. At this point, the provision and strategies that have been in place are reviewed for impact on the pupil against the desired outcomes. The assess, plan, do, review cycle now comes full circle.
How do we engage with parents?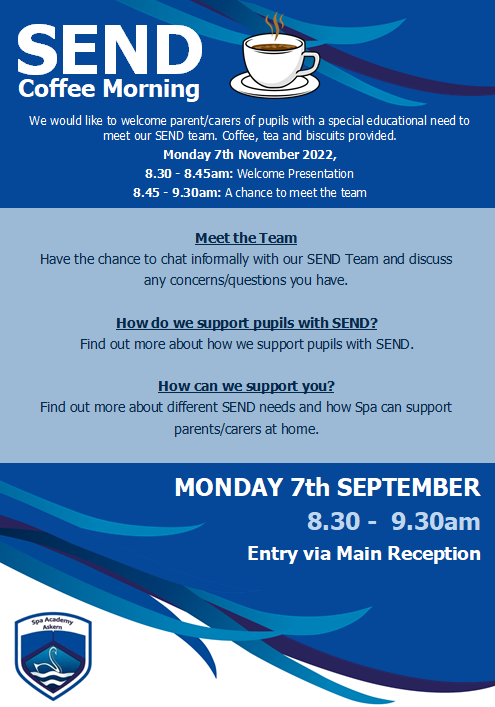 Throughout the year, we aim to engage with parents in a variety of ways.
Coffee Mornings - we hold termly SEN Coffee Mornings to provide an opportunity for families to chat informally with member of the SEN team as well as access further support.
SEN Meetings - as part of the APDR cycle, parents of pupils with SEN are invited to formulate the outcomes, plan and provision for their child.
Informal drop-ins - families are encouraged to contact their child's class teacher where they would like to review progress further, in between SEN plan cycles.
Parent Surveys - Each term we collect responses to regular parent surveys for those parents/carers of pupils with SEND. These will be issued with pupils' SEN plan.
Doncaster Local Offer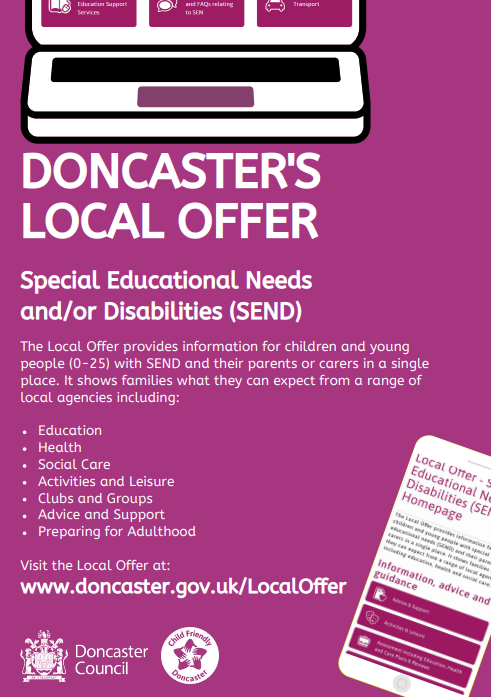 Doncaster Local Area SEND Inspection
As a school within Doncaster, it is important that we respond to the findings of the latest Local Area SEND Inspection. Below we have noted the areas for development from the Local Area SEND Inspection and noted how we are contributing to address these within our own setting.
Transition
'Some children and young people do not receive high-quality support at key transition points. Families report a wide variation in how much support they receive and how effective it is. Sometimes, preparation for transition between schools does not begin early enough or in a fully joined-up way. Within health services, the transition process between paediatric and adult services is of variable quality. Although improvements are under way, this is not having a consistently positive impact at this point.'
At Spa Academy Askern, we prioritise transition.
We work effectively with our two feeder infant schools, Littlemoor & Moss Road Academy.
We meet throughout the year with the SENCo of both schools, liaise with parents on early transition where appropriate.
All parent/carers have the opportunity to complete a 'SEND Information' update. This allows families to share their opinions on the support in place, any concerns they have regarding transition.
Families of pupils with SEND meet with their child's class teacher to review their SEND plan, ensuring that they are involved and their wishes, feelings and ambitions feed into the pupil's SEN provision
Identification
'The emerging needs of children and young people with SEND are not consistently identified well by schools. As a result, any additional support is not always timely or appropriate.'
At Spa Academy Askern, we
Have a range of tools to identify and monitor the progress of those pupils with SEND.
This begins with our work with our feeder infant schools, supporting the identification of those pupils with SEND who are likely to transition to us.
Deploy a range of tools to identify and assess need across the broad areas.
Joint Commissioning Arrangements
Children and young people have not always benefited from a cohesive approach to the organisation of support across the local area to meet their needs. Joint commissioning arrangements across the local area have been slow to develop. Leaders have recognised this issue and sharply focused plans to further strengthen and build upon current joint commissioning arrangements are in place.
GDA Pathway
Some children and young people with ASD and ADHD wait for too long for a formal diagnostic assessment of their needs, despite improvements because of the GDA pathway.
At Spa Academy Askern, we effectively engage with the GDA pathway, whilst also ensuring we work with external agencies and services to provide effective and appropriate support for these pupils, whilst awaiting a formal diagnosis.
EHC Plans
There is too much variation in the quality of EHC plans. Health and care professionals do not contribute consistently well to the plans. The perspective of the child or young person and their parents is sometimes missing. Desired outcomes in the plans sometimes lack precision. Aspirations for individuals are sometimes too low. As a result of this, some children and young people are not having their needs met precisely enough.
At Spa Academy Askern, to support this, we:
Work collaboratively with our Trust SEND & Inclusion Manager to review EHC plans.
Work effectively with parents and pupils to ensure their perspective contributes to this plan. Where further support is required with this, we work alongside SENDIASS to ensure this happens.
Ensure our EHC (and SEN plans) are quality assured and challenged in regards to their ambition for our pupils and precision on outcomes.
Variation in quality of support
There is variation in the quality of support provided by some schools for children and young people with SEND. The SEN education team is working to tackle inconsistencies in the effectiveness of 'SEN support' for children and young people in schools where this is an issue. Variation remains at this point, however.
As part of the Leger Education Trust, we work with our Trust SEND & Inclusion Manager and SENCos from the MAT to develop the quality of support and its consistency across our schools.
Local Authority Offer & Parents
Although several parents that contacted inspectors were happy with much of the support that their children were receiving, others talked of the need to 'fight' to have the needs of their children identified and met. Despite the quality of the support on offer, many parents are unaware of the range of services available. Many have not heard of the local offer or SENDIASS.
Each term, after SEN review meetings take place with staff and parents, parents are sent a paper copy of their child's plan. With this, information on the range of services, local offer and SENDIASS. Our
Leisure Activities
Opportunities for leisure activities in the community for young people with the most complex needs are limited.
We are proud of our ASPIRE curriculum - focused on pupils' personal development. We ensure that all pupils with SEND access this curriculum, but also actively encourage pupils with SEND to participate in the range of extra-curricular activities that we are able to offer.
Key Documentation