Reading
Curriculum Rationale

In ensuring that 'Better Never Stops', our English curriculum aims to ensure that:
Our pupils grow to be individuals that habitually read widely, both for pleasure and for information, as a result of teaching practices that ensures 'every child can'.
Pupils become confident, articulate speakers, enjoying the opportunity to, and are able to, speak, perform, present and debate confidently so that they are equipped with the skills for their future careers/employment.
Pupils appreciate our rich and varied literacy heritage.
Pupils are engaged, confident and able writers – writing clearly, accurately and coherently for a range of contexts, purposes and audiences – so that they are equipped with the writing skills for a range of situations they may encounter in their later lives.
Pupils are resilient writers, constantly editing and improving their work in aspiring to better themselves as learners so that they can build the skills of reflection, creativity and perseverance.
Pupils take pride in their handwriting as a result of perseverance and stamina.
We believe that the importance of developing reading competence cannot be overstated as it is the fundamental facilitator of much learning throughout life. Children must be encouraged to become independent, knowledgeable and reflective readers.
If a child is unable to read, he/she cannot get on in life.
Curriculum Intent
Reading is the centrepiece of our curriculum design.
Our clear curriculum intent - see Reading Progression at the bottom of the page) outlines the intended knowledge and skills that pupils learn in reading throughout their course of study at Spa Academy Askern. This ensures that the teaching of reading
across school is sequential and progressive, building upon pupils' prior knowledge and providing appropriate challenge. Our knowledge and skills are divided into VIPERS - reflecting the reading domains of the National Curriculum. Short-term planning then ensures the intended knowledge in this document is reached through well-sequenced lessons.
Alongside this, it is our curriculum's intent that our pupils become fluent readers. Teaching (and individual reading) is adapted based on where pupils' fluency sits within the Fluency Progression document (see bottom of page). The intent is to ensure pupils become fluent readers as they move onto more challenging text.
Alongside the high-quality and challenging Literature-Led Curriculum, we ensure our pupils engage with, listen to, rehearse and perform a wide-range of poetry. Our intention behind our Poetry Spine is that pupils become familiar with key poets and their inspiring work.
Curriculum Implementation
Spa's curriculum intent is achieved through: reading lessons, reading books (including early reading) and our reading culture. Our approach to each is outlined below.
Reading Lessons
Reading lessons follow the school's Teaching & Learning principles to provide the maximise student progress. In reading specifically, we have designed - and regularly evaluate the impact of - our reading cycle.
Weekly Reading Cycle
Focus

Day 1

Fluency & Vocabulary

This session allows for children to be pre-taught vocabulary (tier two and three words) that they will encounter in their text for the week. These words will be explored and then recapped throughout the week.

We are beginning to use this session to implement echo reading and text marking as a key strategy to support fluency and comprehension.

Day 2

Retrieval

The skill of retrieval is a fundamental skill in reading and therefore is a core part of our reading sequence. This session focuses on age-appropriate retrieval of information.

Day 3 & 4

Skill Focus

Over the course of the year, we sequentially plan to achieve the intended knowledge and skills outlines in the progression document. These sessions will often begin with a more scaffolded session, focusing on a VIPERS skill and the second allowing for more independent application.

Day 5

Reading Comprehension

This session allows pupils to use mixed reading skills - revisiting and embedding previous knowledge and skills - in completing a reading comprehension. This also allows for teachers' to identify key next steps and adapt the curriculum and teaching to address these. Information from this will also feed into individual reading with pupils.
Our reading curriculum intentions are also delivered through individual reading.
It is aim that all Spa pupils are listened to read by an adult, at least,
3 times a week.
Early Reading
Spa Academy Askern is determined that every pupil will learn to read, regardless of their background, needs or abilities. We aim to ensure all pupils, including the weakest readers, make sufficient progress to meet or exceed age-related expectations. Our Literature-Led Curriculum triangulates the stories, poems, rhymes and non-fiction that we have chosen to develop pupils' vocabulary, language comprehension and love of reading - pupils are familiar with and enjoy listening to a wide range of stories, poems, rhymes and non-fiction.
We work collaboratively with our infant feeders to support the ambition that all pupils have mastered phonics in Year 2 (or before). However, some pupils join Spa Academy Askern in Year 3, still requiring phonics teaching and it is vital that we quickly ensure these pupils catch-up through rigorous and timely intervention. Our approach to phonics ensures:
the sequence of reading books shows a cumulative progression in phonics knowledge that is matched closely to the school's phonics programme. Staff give pupils sufficient practice in reading and re-reading books that match the grapheme-phoneme correspondences they know, both at school and at home.

we continue with a teaching programme of systematic, synthetic phonics that is taught from the beginning of reception in our infant feeders, where pupils still require this.

the ongoing assessment of pupils' phonics progress is sufficiently frequent and detailed to identify any pupil who is falling behind the programme's pace. If they do fall behind, targeted support is given immediately.

the school is developing sufficient expertise in the teaching of phonics and reading.
Decodable books
We aim to ensure that all children learning to read are given decodable reading books ‑ that is, books that are 'closely matched to pupils' developing phonic knowledge and knowledge of common exception words' ‑ to read in school and practise at home. Pupils access RWI Phonics read and take home a copy of their latest read, with sounds and words they are familiar with. Similarly, pupils accessing RWI Fresh Start read and take home the anthology that is aligned with their current module.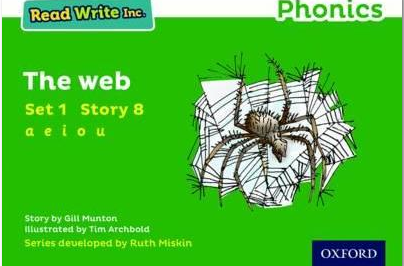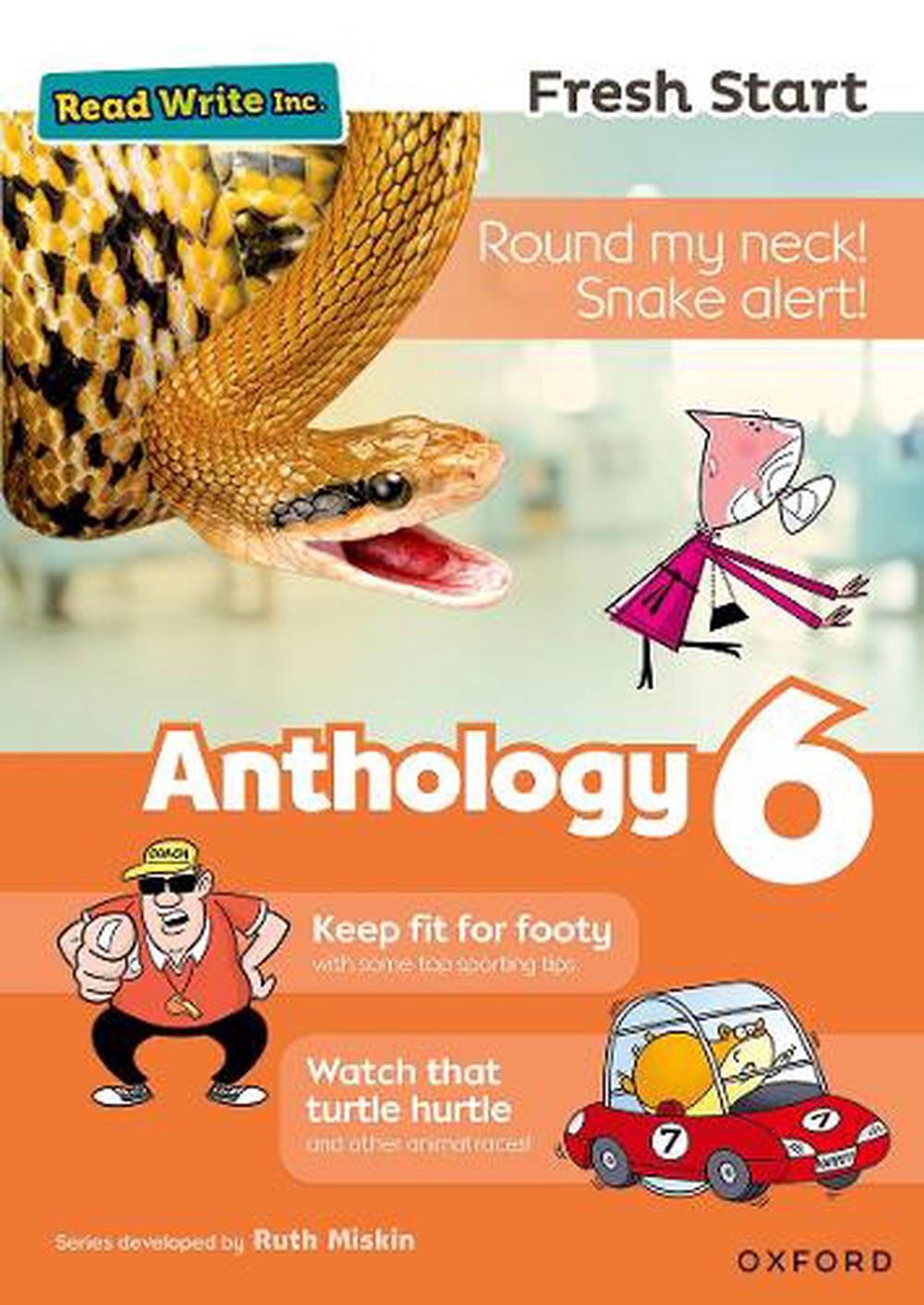 All pupils accessing these interventions have a personalised flashcard set, for both school and home, containing the sounds they have been taught. This allows for confident practise at home as well as regular practise throughout the day in school.
Where appropriate, pupils also use sound blending books, to support practise at home and school.
Communication with Parents/Carers
Making sure that parents/carers are informed of their child's progress in reading is vital. Pupils identified as requiring Read Write Inc Phonics or Fresh Start are:
At the beginning of the programme to outline the programme and how progress can be supported at home through the use of storybooks (Phonics), anthologies (Fresh Start) and flashcards (both).
At regular intervals, celebrating success and strategies that could further support at home.
Every time a pupil moves into a new story set (phonics) or module group (Fresh Start).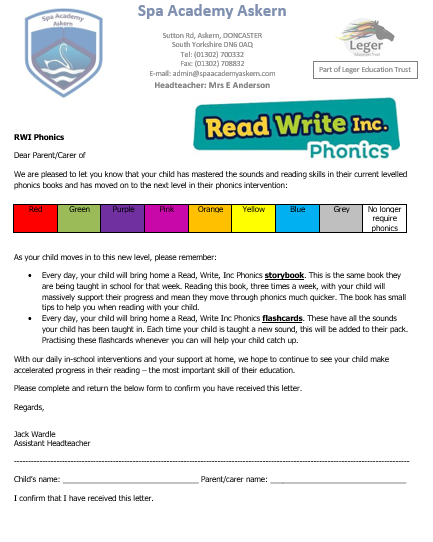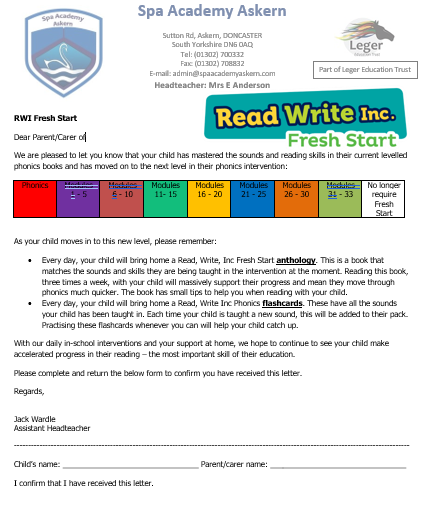 Age-appropriate literature
Providing catch-up teaching is vital. To continue to develop these pupils' language and vocabulary, whilst taking part in the RWI programme, and encourage a love of reading, our curriculum ensures that they listen to and discuss the same texts that their peers read in their English lessons. For example, the high-quality, age-appropriate, vocabulary and knowledge-rich texts in our Literature-Led Curriculum are delivered through writing sessions and also daily storytime. However - as the DfE's 'Reading Framework' outlines 'asking them [struggling readers] to read the texts by themselves and complete written comprehension activities wastes their time and further demoralises them, because their decoding skills do not yet allow them to read well enough. Written composition might also be too challenging for most of them.' Once secure in their decoding knowledge, through the above SSP programmes, pupils move in to whole-class reading sessions.
Professional Development
Effective professional development is likely to be sustained over time, involve expert support, coaching and opportunities for collaboration.
Professional development for the teaching of early reading includes:
Instructional coaching from senior/subject leads and between staff
Whole-school development of routines and reinforcement
CPD Pathways through Read, Write, Inc
Challenge partnerships with local feeder infant schools, supporting our early reading development
Inductions for ECTs and new staff
Reading Books
Spa's Aims
Spa's Approach

To deploy a rigorous approach to assessing pupils' ability to independently read.

Using our assessment system, we aim to ensure that the books pupils are given:

are demanding and challenging yet can be read independently as a result of assessing pupils' decoding, comprehension and fluency;
connect closely to the phonics knowledge pupils are taught where necessary.

PM Benchmarking allows us to identify appropriate books for pupils, based on an assessment of their word reading, fluency and comprehension.
Fluency of pupils is tracked using our fluency rubric which supports whole-class teaching and focuses when reading with individuals.
See 'Early Reading' for the supporting materials and reading books pupils are given to practise at home and school.
Senior Leaders regularly quality assure the books given to pupils, with a particular focus on our vulnerable and lower-attaining readers;
The literature in our literature spine is assessed as demanding and challenging for that year group and the link texts used in reading lessons and the wider curriculum are assessed (for example, against the Lexile measurements) to ensure they too are challenging.
Poetry Spine
At Spa, we have a Poetry Spine sitting within our Literature-Led Curriculum Spine. Information on this page focuses on:
Why do we teach poetry at Spa?
Examples of how we teach poetry at Spa
Our Poetry Spine
Why do we teach poetry at Spa?
Rachel Clarke (2020) suggests the following 10 reasons for why we should focus on ensuring poetry is taught in our schools. These reflect our rationale as a school for having a Poetry Spine in our school:
1. It's generally not chosen by children themselves
We all value recommendations and also have a tendency to read what is familiar to us. Therefore as teachers when we use poetry with children we are modelling how to read it, building familiarity with it, and widening children's reading horizons.
2. It's a great context for learning to choose words for effect
Poetry is the distillation of language into its purest form. Each word is chosen with care and placed in the poem with pristine precision. Learning to recognise how a poet chooses words for effect opens children's eyes to language as something more than a list of 'wow' words. Poetry is a place for learning technical terms such as similes, metaphor, onomatopoeia, alliteration, personification but significantly for coming to appreciate how each of these creates imagery and effect.
3. It encourages playfulness with language
Poets don't just make exquisite choices at the word level. They also craft sentences with the beauty and precision of the mediaeval stone-masons. Like those masons they know that beauty is not all about ornate décor but about the foundations, trusses, buttresses and joints that hold the structure of the poem together. This means poets use sentence structure and grammar with precision. Learning about poetry at the grammatical level, learning to move clauses and phrases for impact, and to punctuate for effect are valuable lessons that can be learned through poetry.
4. It has impact on prose writing
Poetry for poetry's sake is a wonderful and enriching thing. Teaching children to appreciate, and to write poetry, opens their eyes to the beauty of language well-formed. It is also a wonderful context in which to teach them techniques to improve their prose writing. Poetry writing is therefore a transferrable skill which is essential for good writing.
5. It's a great context for learning to draft, edit and improve
When learning to choose language for effect, to move words and phrases and to consider alternative punctuation we are engaging children in the processes of drafting, editing and improving their work. This is particularly important when writing poetry with syllable rules such as Haiku, Cinquain, and Tanka. Children generally enjoy these forms and can replicate their patterns readily. By teaching them to consider effectiveness at the word and sentence level we can then support them to improve their writing. Like other aspects of poetry teaching; this is a transferrable skill.
6. It enables link making with spoken language
Poetry enables us to unite the reading and spoken language strands of the national curriculum. By performing poetry aloud children are given opportunities to, "speak audibly and fluently…participate in …performances…select and use appropriate registers…" (National Curriculum p.17). More importantly though, performing poetry aloud brings it alive and helps children to hear the patterns and cadences of the language choices made by poets.
7. It's manageable
With the exception of some of the longer narrative poems, most poetry is concise. This makes it perfect for those children who are daunted by, or lack the stamina for reading longer examples of prose.
8. It encourages links with our literary heritage
Classic poems, whether short, narrative, for reading aloud or in the head are a great way to ensure that children are exposed to the cannon of literature from our heritage. Studying classic poetry is a particularly supportive way to ensure this aspect of the curriculum is covered. It is also a strategy for providing depth and enrichment for pupils mastering reading skills' particularly at the top of Key Stage 2.
9. It promotes higher order thinking skills
The way that readers respond to poetry varies: rich imagery triggers different connotations for different readers. Consequently there are often no 'right answers' when discussing poetry. So long as children can support their thoughts about poetry by referring to the text then they can offer a breadth of responses – frequently at the higher levels of thinking. Poetry is therefore supportive of encouraging children to think beyond the literal and into the abstract.
10. It's enjoyable
Whether it's because the national curriculum tells us that pupils should 'establish an appreciation and love of reading' (National Curriculum p 14) or because we already believe that children should enjoy the act of reading, poetry is a part of the reading diet. Therefore just as a plate of meat and potatoes would be incomplete without a helping of vegetables; so a reading diet of fiction and facts would be incomplete without a nutritious portion of poetry.
Examples of Poetry at Spa
Each week, one of our daily 'storytimes' are put aside for focusing on our Poetry Spine. This will include listening to, rehearsing and performing poetry.
Do we have the new @MichaelRosenYes in our Year 6 team? 🙌 Taking Rosen's 'Chocolate Cake' and performing it, refining it, rehearsing it... looking forward to their final performance in 2 weeks time! 🎭 #SpaReading pic.twitter.com/OXmr9fEMvU

— Spa Academy Askern (@SpaAcadAskern) October 2, 2020
As part of our writing curriculum, poetry is taught throughout the year, allowing pupils to develop their skills as poets themselves. Come back soon to see some of our young poets in action!
Spa's Poetry Spine
Watch Pie Corbett introduce the Poetry Spine that we have adopted. Come back soon to see our pupils introduce these poets and poem collections.
Developing a Reading Culture
Spa's Aims
Our Approach

Spa Academy strives to ensure that our pupils leave us with a love of reading that is evident in the way they:

regularly read for pleasure;
are critical readers, developing personal views on authors and genres;
understand key aspects of Britain's literary heritage;
enjoy reading and listening to stories, poems, rhymes and non-fiction.

All classes taking part in a highly-engaging Story Time for 20 minutes at the end of each school day;
Parents are invited to join their child for Storytime Together events at school;
Books are carefully selected for their contribution to pupils' cultural capital, vocabulary and potential to spark discussion in the classroom;
After lunch, our pupils and teachers (as lovers of reading themselves!) independently read. Book talk after this session, as well as discussions when choosing books, aims to develop critical readers with personal views on authors and genres;
Our fantastic reading corners, in every classroom, invite and excite pupils but also signpost pupils to new genres and authors, helping the development of personal preference;
Pupils visit the library weekly to explore and select a new book. Our library is carefully designed;
Our culture of reading is embedded in our learning environment, in every corner of our school;
Assemblies and a Storytime session each week provide the opportunity to read, listen, share and celebrate a carefully-chosen canon of poems and rhymes;
In the Summer term, the theme for our novels is classics, in which link texts allow pupils to, progressively throughout their time at Spa, understand key aspects of Britain's literary heritage;
Spa Academy is part of the community-based Doncaster Stories campaign. We are working collaboratively with schools across Doncaster to bring a love of reading to our pupils and the community of Askern and Doncaster as a whole. More information can be found here or by searching #SpaReading on our Twitter.
Curriculum Impact
We are excited to soon share with you examples of pupils' portfolio pieces.
Curriculum Leadership
| English Team Role | Staff |
| --- | --- |
| Strategic English Lead | Jack Wardle (Assistant Headteacher) |
| Reading Champion | Beth Woodrow (Class Teacher) |
| Reading (T&L) Co-ordinator | Chloe Marsden (Class Teacher) |
| Oracy Lead | Elaine Exley (Class Teacher) |
| Reading Champion (Parental Engagement) | Joanne Hepworth (Family Liaison) |
| Early Reading | Jack Wardle & Ashleah Leighton (HLTA) |
If you would like to find out more about Reading at Spa, please contact us via the main office.