Geography
Curriculum Intent
Spa's geography curriculum aims to equip pupils so that they will:
Spa's geography curriculum, as part of our overarching curriculum model, is designed with our curriculum drivers in mind:

Curriculum Implementation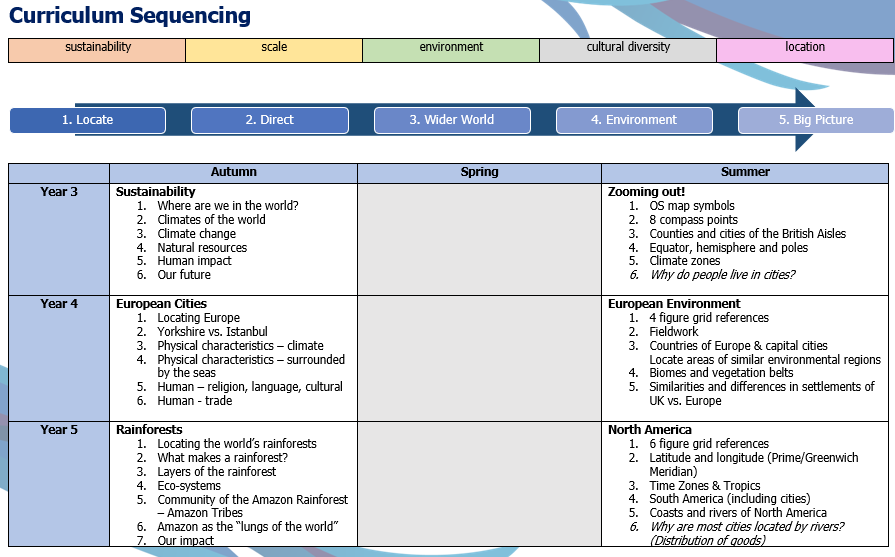 Geography & Spa's Literature-Led Curriculum
As part of Spa's Literature-Led Curriculum, the literature spine has been developed to allow pupils to confidently enjoy geography-themed literature in the term following discrete teaching of geography. More information can be found below and under the English page.
Geography-themed Literature
In Autumn 1 (the previous term) pupils will have studied geography discretely. By studying this geography in the previous term, the carefully-selected literature studied during Autumn 2 is accessible as pupils have already been exposed to the vocabulary and background knowledge required to comprehend.
In Year 3 pupils study The Great Kapok Tree. They are able to combine their geographical knowledge from Autumn 1's sustainability unit in exploring this tale of deforestation. In Year 4, as pupils have been previously exploring and comparing geographical regions, pupils study The Boy Who Biked the World. In Year 5, pupils are able to confidently enjoy The Explorer, having been equipped with the knowledge of this in Autumn 1. This adventure tale, studied in Year 5 is then built upon in Year 6, where pupils study Survivors. This series of short extraordinary tales builds upon pupils' understanding of natural disasters. It allows for critical study of conveying emotion and character through narrative.
Key Documents
Please find below the key documents referred to throughout this page.