Welcome Back!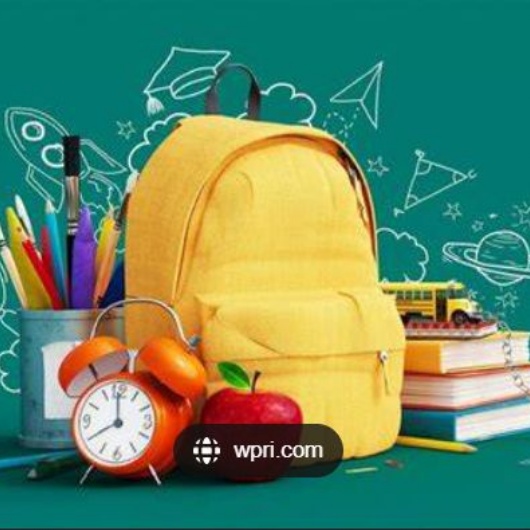 We look forward to welcoming all of our pupils to Spa on Wednesday 6th September!
Here are some additional reminders to support you and your child on their return.
Key Information:
Our school day starts promptly at 8.30am.

Gates open on Sutton Road and Manor Road for pupils in Y3 & Y4, and on Alfred Road for pupils in Y5 & Y6.
We encourage pupils to leave parents at the gate and make their own way into school through the entrances. Teachers will greet pupils as they arrive in the school building.
Lessons will begin immediately at 8.30am with a morning task.
At the end of the day pupils will leave by the same entrances at 3pm.
Pupils in all year groups will only be allowed to make their own way home if we have received parental consent for them to do so.
In a change to previous arrangements, adults collecting Y3 & Y4 pupils must wait on the playground so that staff can ensure a safe handover.
Our office will be closed 2.30-3.00pm
Pupils should only be collected at this time by prior arrangement.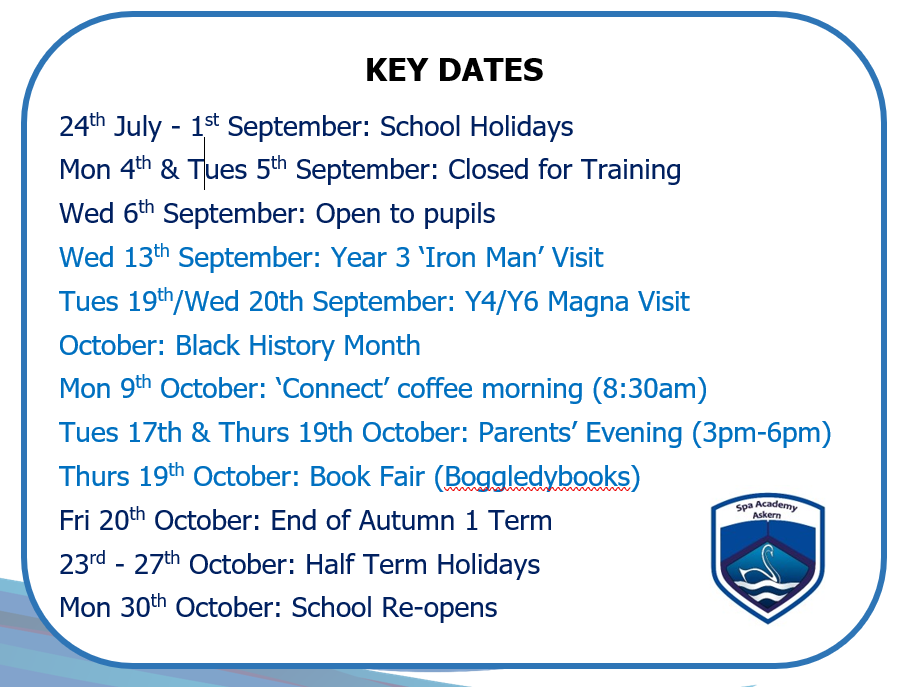 Spa Academy - School Uniform
From September 2023 we will continue to uphold expectations for school uniform:
Black or grey trousers, skirt or shorts (or check dress). No jeans, leggings, or cycling shorts (unless worn under skirts).
White polo t-shirt or shirt (With or without Spa Logo).
Navy cardigan or jumper (With or without Spa Logo).
Black shoes, boots or trainers (trainers should be all black including the sole) Pupils may bring a change of shoes for playtimes.
All pupils in Year 6 must also wear a school tie with either a white shirt or polo shirt.
PE Days:
These are NOT non-uniform days! On PE days, pupils should come to school wearing PE kit as this saves time changing at school:
Black or navy shorts or sport trousers (logos are allowed but should be small)
White or navy t-shirt.
Trainers or black pumps.
School jumper or plain black/navy sport jumper/jacket.
If pupils' uniform or PE kit do not meet uniform expectations, we will have spare uniform and PE kit available for pupils to change into for the day/lesson.
If you need support with uniform or PE kit, please contact our pastoral team at school who can support you with this.
Texts will be sent out during the first week back to confirm PE days for each class.
Pre-loved Uniform:
We are also asking for any donations of school uniform and PE kits, especially Year 6 ties, to allow us to support families, through our pre-loved uniform shop, and to allow us to have spare uniform in school if needed. Please send in your donations to the school office.
We also welcome donation of waterproof clothing including hats, gloves and wellies for use by our gardening club!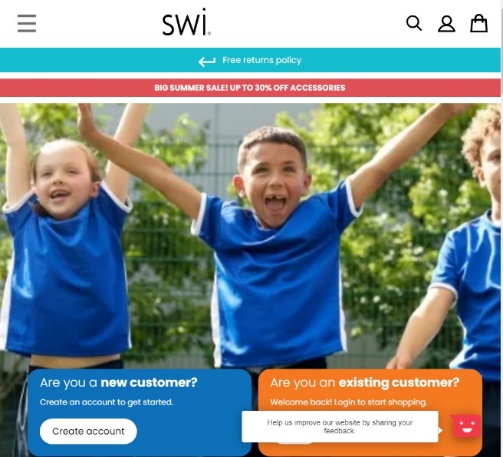 Just a reminder that school uniform is no longer stocked in school and should be ordered through the SWI uniform website.
Head to https://www.swischoolwear.co.uk/ register as a parent and browse the site, searching for Spa Academy Uniform.

Breakfast Club is available from 8am-8.30am as part of our extended school facilities and places can be booked by contacting the main school office.
​Our school day starts at 8.30am. Pupils have a morning task to complete every morning, while registration is taken and staff can ensure that pupils are equipped and in the correct uniform, ready for the school day ahead. Every morning, staff remind pupils of:
Attendance – Be present and on time
Uniform – Wear full school uniform or PE kit on designated PE days
Belongings – A coat (even if the weather seems fine), drink bottle & reading book.
Equipment – School planner
Routines – In lessons and beyond the classroom
What to bring to school:
At Spa we promote healthy eating choices. Any fizzy or energy drinks brought into school will be confiscated. Pupils are not permitted to use their mobile phones in the school building and if they are found doing so their phones will be taken off them until the end of the school day, where they can collect these from Main Reception. Pupils are provided with their own pencil case containing all the items they will need during the school day.
Planners:
Pupils are provided with a school planner which will be used daily. It has useful information to support learning as well as space to record rewards and home learning. This will also be used as additional home school communication when needed. Planners need to be brought to school daily. Replacement planners will be charged at £3.50