Writing

Curriculum Intent
Spa's writing curriculum aims to equip pupils so that they will: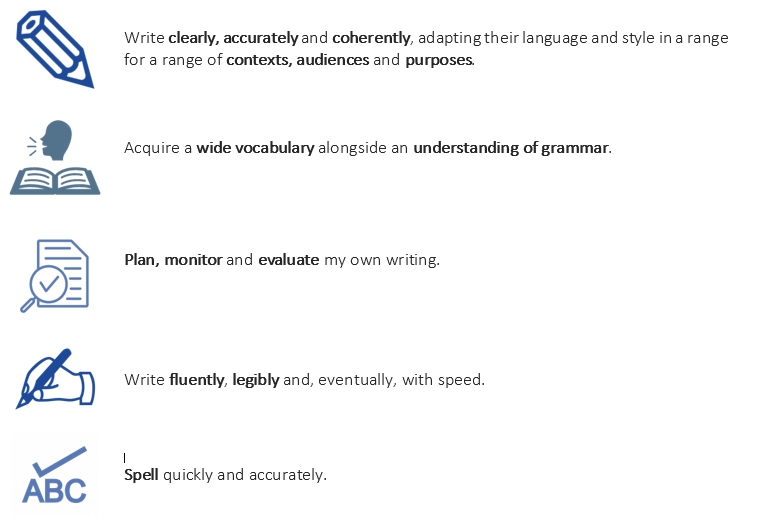 Spa's writing curriculum, as part of our overarching curriculum model, is designed with our curriculum drivers in mind:

Curriculum Implementation
Literature-Led Curriculum
So that pupils begin a writing sequence with knowledge of the genre, our reading curriculum, in Years 3 - 6 is sequenced purposefully to familiarise pupils with the genre they will be writing next through reading lessons in the weeks prior to their writing unit on this.
Link texts in reading sessions, in the weeks prior to a writing unit, are sequenced and planned to introduce subject-specific content, knowledge and vocabulary that will be required for future writing units - building the confidence of pupils.
Across year groups, our Literature-Led Curriculum is sequenced so that vocabulary and language is built up over time. For example, in Autumn term, pupils in Year 5, writing a rainforest setting description based on 'The Explorer' will be able to draw on their background knowledge and vocabulary from studying The Boy Who Biked the World in Year 4 and 'The Great Kopoke Tree' in Year 3. Similarly, pupils in Year 6, when writing for The Arrival (an abstract exploration of refugees) will be able to draw on their prior knowledge of concepts and vocabulary previously covered in Year 5's study of The Boy at the Back of the Class and Year 4's study of The Journey.
Writing Sequence
We have designed our teaching sequence to help pupils to remember long term the content they have been taught and to integrate new knowledge into larger ideas.
Below is the sequence that is followed when teaching writing:
Explore
The purpose and audience are made clear and are the cornerstones of each writing sequence. The EXPLORE stage of Spa's writing sequence gathers the key subject-specific knowledge that pupils require to be able to write with confidence. This stage of the sequence focuses on immersing pupils in a wide-range of vocabulary and language that can be applied to the text.
Plan
With the purpose and audience constantly being revisited, the teacher models planning the text. This will focus on both structural features as well as the coherent organisation of ideas, manipulating these based around the desired purpose and audience. Pupils will then construct their own plan.
For our younger pupils, those with SEND or those that struggle with sentence construction, this stage is focused on creating accurate single-clause sentences (for later manipulation in the 'write' stage. Older pupils, or those that are confident in their sentence construction, will use this stage to focus more on the content and sequencing of ideas.
Write
In this stage of the sequence, staff model-write as 'expert writers'. Focused on using and manipulating grammar and punctuation to achieve the purpose and with the audience constantly in mind. Punctuation and grammar is taught through the context of the genre being studied. Pupils apply this to their own independent writing in this stage.
Revise & Edit
Modelled by staff, this stage of every writing sequence focuses on revising and editing based on teachers' assessments of pupils' writing. Revision and editing sessions are designed around the needs of the whole-class, groups and individual pupils.
Publish
Pupils publish their writing, focused on any final revisions/edits to be made and to 'publish' their work to achieve their purpose. This aims to build confidence, reflectiveness and pride in our pupils.
Key Documents
Please find below the key documents referred to throughout this page.