Early Reading
Spa Academy Askern is determined that every pupil will learn to read, regardless of their background, needs or abilities. We aim to ensure all pupils, including the weakest readers, make sufficient progress to meet or exceed age-related expectations. Our Literature-Led Curriculum triangulates the stories, poems, rhymes and non-fiction that we have chosen to develop pupils' vocabulary, language comprehension and love of reading - pupils are familiar with and enjoy listening to a wide range of stories, poems, rhymes and non-fiction.
We work collaboratively with our infant feeders to support the ambition that all pupils have mastered phonics in Year 2 (or before). However, some pupils join Spa Academy Askern in Year 3, still requiring phonics teaching and it is vital that we quickly ensure these pupils catch-up through rigorous and timely intervention. Our approach to phonics ensures:
the sequence of reading books shows a cumulative progression in phonics knowledge that is matched closely to the school's phonics programme. Staff give pupils sufficient practice in reading and re-reading books that match the grapheme-phoneme correspondences they know, both at school and at home.

we continue with a teaching programme of systematic, synthetic phonics that is taught from the beginning of reception in our infant feeders, where pupils still require this.

the ongoing assessment of pupils' phonics progress is sufficiently frequent and detailed to identify any pupil who is falling behind the programme's pace. If they do fall behind, targeted support is given immediately.

the school is developing sufficient expertise in the teaching of phonics and reading.
Decodable books
We aim to ensure that all children learning to read are given decodable reading books ‑ that is, books that are 'closely matched to pupils' developing phonic knowledge and knowledge of common exception words' ‑ to read in school and practise at home. Pupils access RWI Phonics read and take home a copy of their latest read, with sounds and words they are familiar with. Similarly, pupils accessing RWI Fresh Start read and take home the anthology that is aligned with their current module.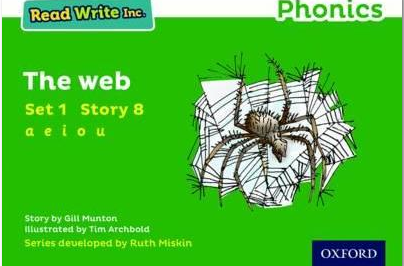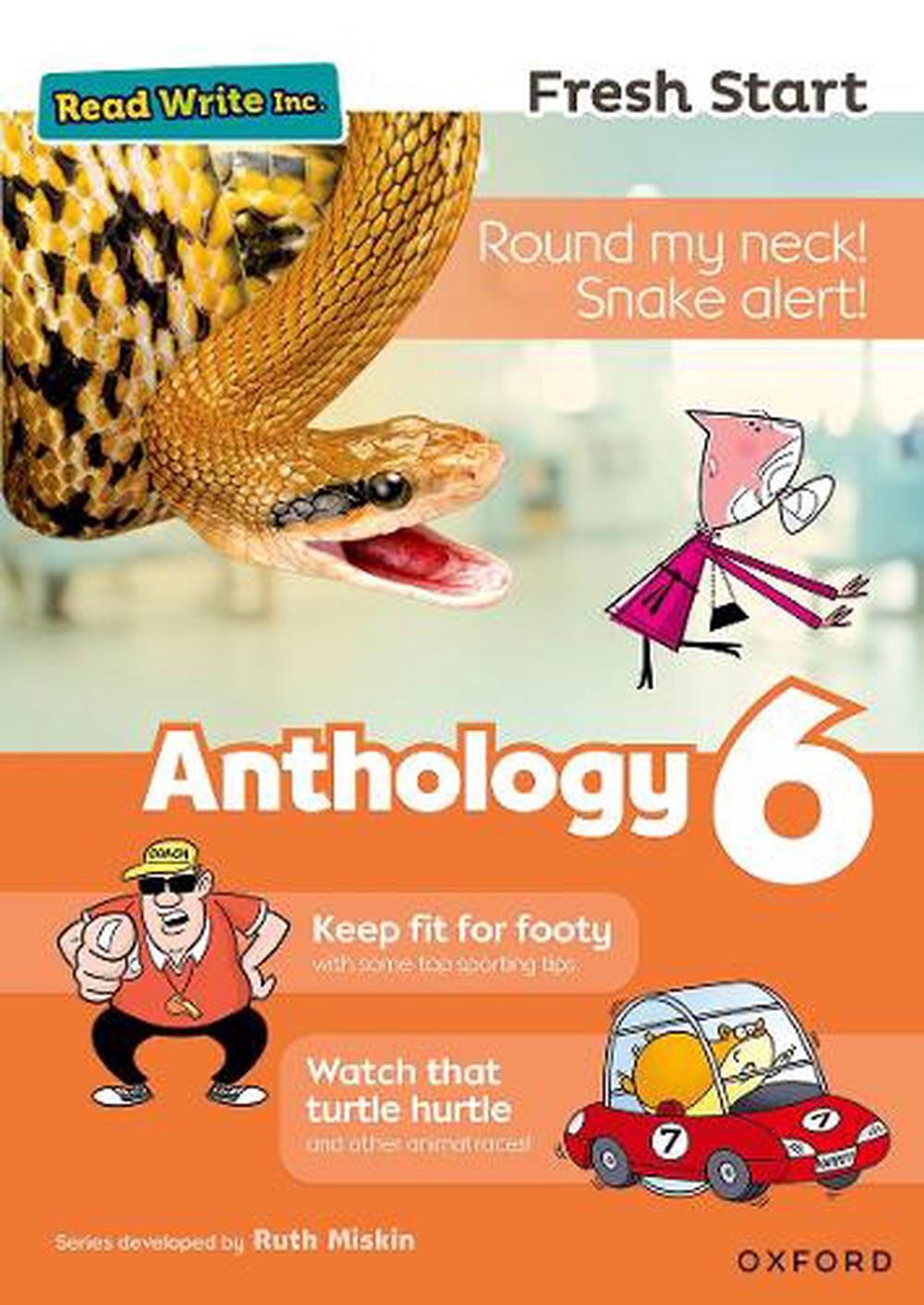 All pupils accessing these interventions have a personalised flashcard set, for both school and home, containing the sounds they have been taught. This allows for confident practise at home as well as regular practise throughout the day in school.
Where appropriate, pupils also use sound blending books, to support practise at home and school.
Communication with Parents/Carers
Making sure that parents/carers are informed of their child's progress in reading is vital. Pupils identified as requiring Read Write Inc Phonics or Fresh Start are:
At the beginning of the programme to outline the programme and how progress can be supported at home through the use of storybooks (Phonics), anthologies (Fresh Start) and flashcards (both).
At regular intervals, celebrating success and strategies that could further support at home.
Every time a pupil moves into a new story set (phonics) or module group (Fresh Start).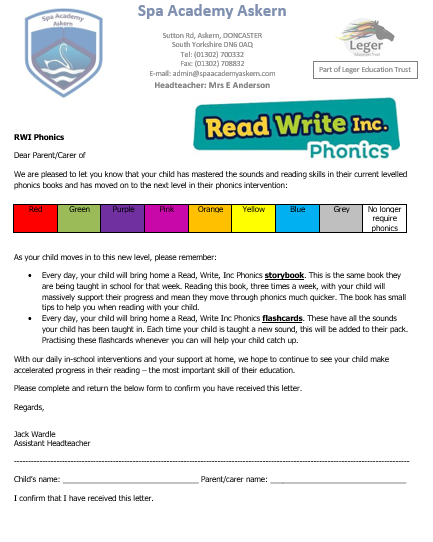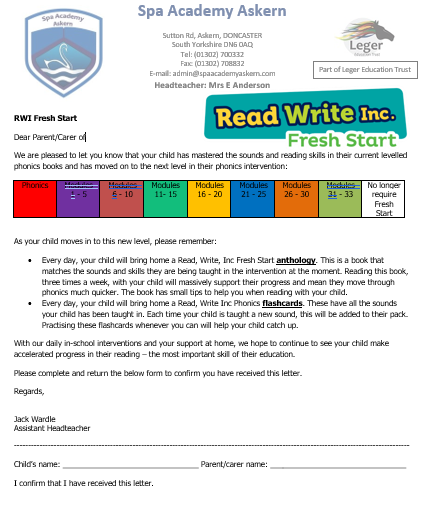 Age-appropriate literature
Providing catch-up teaching is vital. To continue to develop these pupils' language and vocabulary, whilst taking part in the RWI programme, and encourage a love of reading, our curriculum ensures that they listen to and discuss the same texts that their peers read in their English lessons. For example, the high-quality, age-appropriate, vocabulary and knowledge-rich texts in our Literature-Led Curriculum are delivered through writing sessions and also daily storytime. However - as the DfE's 'Reading Framework' outlines 'asking them [struggling readers] to read the texts by themselves and complete written comprehension activities wastes their time and further demoralises them, because their decoding skills do not yet allow them to read well enough. Written composition might also be too challenging for most of them.' Once secure in their decoding knowledge, through the above SSP programmes, pupils move in to whole-class reading sessions.
Professional Development
Effective professional development is likely to be sustained over time, involve expert support, coaching and opportunities for collaboration.
Professional development for the teaching of early reading includes:
Instructional coaching from senior/subject leads and between staff
Whole-school development of routines and reinforcement
CPD Pathways through Read, Write, Inc
Challenge partnerships with local feeder infant schools, supporting our early reading development
Inductions for ECTs and new staff